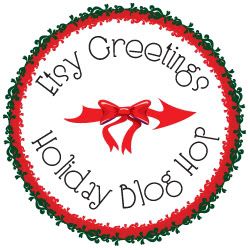 This post is part of the EtsyGreetings Team Holiday Blog Hop.
Our theme is Handmade Holiday.
Happy reading!
= = = = =
So this week I am participating in a super fun Blog Hop sponsored by the Etsy Greetings Team! Our subject for the hop is sharing our Holiday Traditions...in true handmade fashion! I don't know about you, but for me, one of the best things about the Holidays is the anticipation...the build up, the count down.. the excitement of what's to come! In our family, advent calendars were always a part of the excitement of Christmas, whether it was the chocolate-a-day kind, or the little mouse calendar from Avon, that moves closer to the Christmas Tree each day.
Now that I have kids of my own, I am continuing the tradition of advent calendars to build up the excitement of Christmas. For the last few years, I have been looking for an advent calendar that has the little drawers or doors so I can fill each day with goodies of my own choosing. Each one I've found though has been expensive, and just not quite what I'm looking for. So, being the DIY crafter that I am, I decided to make my own this year! I thought I would easily find a DIY advent calendar at Michael's, but this beauty is the only one I could find:
Hmm. Not really my style, or what I was looking for. Luckily, I noticed that the santa frame was just glued to the box with the doors- and that's the part I really wanted! So.....bye bye Santa! And this is how I began the transformation:
Step 1: Rip off the Santa frame.
Step 2: Remove the knobs (will re-attach later)
Step 3: Spray paint the advent calendar a nice creamy white
Step 4: Give the knobs a blast of gold glitter spray paint ('cuz every Christmas project needs some glitter)
Step 5: Using your holiday papers (I used papers from my new digital kit
A Very Vintage Christmas
), plan your layout, and then bust out your Modge Podge Glue and glue your papers to each door.
Step 6: Using a paper piercer, I punched through the door frames to open the holes back up where the knobs go. However, the knobs didn't go back into their holes that well, so I ended up just hot gluing them back to the doors.
Step 7: Adhere glittered number stickers to each door
Step 8: Hot glue ribbon around the edge of box.
...and enjoy! Here is the finished result:
I can't wait to fill each little door with goodies, and see my daughters' anticipation build up for Christmas Day!
So that's my Holiday Tradition, but don't stop here, because there are LOTS more Holiday Traditions from my fellow Etsy Greetings Team Members, including holiday stories, yummy recipes, and some fabulous printables! Click on the arrows below to continue along our hop!